High Quality SEO Link Building Services in Ghaziabad
Link building is still one of the most important SEO activities and we help you get backlinks from high quality websites that are relevant to your business. Google still consider Link building as the most important ranking factor. Google loves ranking websites that demonstrate expertise, trust and authority. It is not so easy to do, but when it is done in a proper way it can turn out to be extremely effective and that's how we come in picture.
We have the best team of SEO professionals who have thorough knowledge about link building.  Nothing beats their own due diligence. With our link building services you can drive referral traffic and improve the authority of your website.
Why it is important to build links?
Google algorithms keep changing and creating backlinks is one of the most important factors for search engines to determine which site is ranking for which keyword. In SEO link building is a vital SEO tactic that shows that links are showing search engines that your website is a quality resource important for citation. Therefore, sites that have more amounts of backlinks get higher rankings.
Google notes which websites have high number of links and it rank those web pages. Link popularity is also a major factor in determining the authority of one's website. In the ranking algorithm the quality and quantity of backlinks are important. With link analysis activity we come to know that which pages will be good for a set of keywords and keywords phrases. It needs a lot of attention and when you outsource the link building activity to us, we make sure to do it properly. We give link building packages to enhance the link popularity so it improves search engine rankings.
Why choose us for link building?
When it comes to link building there is a right and wrong way to do so. For creating long term ability of a website one must use a natural link building method. So, we help you earn links and not just buy them. We do not believe in getting indulged with some manipulative ways to get a backlink. It can get your website banned from the search results. This wrong method is also called the black hat SEO. We refrain from doing that. We use only white hat techniques to build links that are appreciated by Google in the long run.
Natural or organic way of building links is not easy. It is difficult and time consuming. Well, there is no shortcut to success. All links are not equal and when you get an authoritative website link then it will create a bigger impact on your ranking and on the SERP than those links from small or newly built websites. We understand the in and out of the complete link building process.
A few types of link building strategies which we apply:
There are various link building strategies which we use to get your website on top of the search engines. We imply thousands of such strategies depending on your business goals. Here we have discussed a few strategies that will help external websites to link with yours.
Content creation and promotion: Content is king and creating powerful meaningful content is the key to attract audience. The content should be compelling and unique so it engages the end user. This is a natural way to invite people and encourage them to take action. The audience should talk about the link, share it, etc. So, we help in spreading the word about your link before anyone find your content and link to it.
Put it in front of influencers: There can be many in your industry who has a large social media following. Popular bloggers should know about it and for this, we put your services, site, and products in front of them.
There are many other ways we implement to build links. It can take some time to create links, but we do not take any chances. We only use white hat strategies to build links.
Our link building process:
For any strategy to work there should be a systematic process. We follow an appropriate link building process for our clients. We brainstorm ideas that can help your website be on the top.
Firstly we do proper keyword research and analysis. Comprehensive research and analysis of keywords is a must to check who is competing with you and how are they getting backlinks. Then we serach for potential websites from where the backlinks can be secured and these potential websites are analyzed to gauge relevance.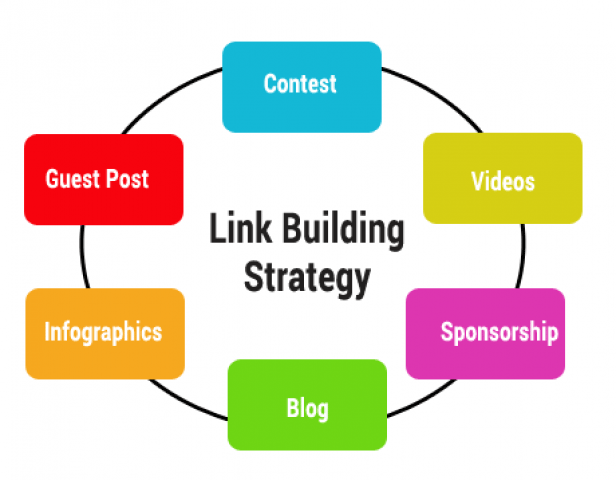 Secondly, we build the database of relevant websites and target them in a systematic manner. Then submitting the links on different social media platforms, directories, and bookmarking websites. We also contact many bloggers for guest posting opportunities as this is an impeccable method of building links.
Last but not the least, reporting and tracking the requests, submissions and other things that have been done by our team is shared with our clients on schedule. We give updates on how things are moving and what results are our link building process is making. So, you are always aware about how things are moving.
We know that you do not want your customers to find your competitors instead of you. So, call us now and we will help you reach the top of search engines using our proven SEO strategies.